When spring comes, there are two categories of people. Those who wait wisely for summer and those who, like you, know how to take advantage of the beautiful days while keeping one foot in the snow. So, to taste the end of the season literally and figuratively, we thought that a diary of the weeks to come would not be a luxury.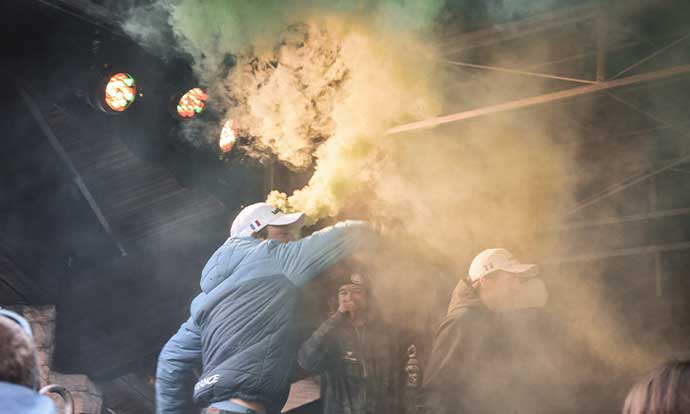 THE RETURN OF THE CHAMPIONS – 1ST STAGE
After a season of competitions in the four corners of the country, Europe and the planet, the time of vacations has sounded for the athletes of La Clusaz. Alpine skiing, cross-country skiing, alpi, freestyle, freeride… It's time to release the pressure, if you know what we mean!
All categories, all disciplines, and in the company of their fan clubs, our athletes will share their seasons, their performances, their medals around a drink. A friendly meeting to get your strength back and start again to attack the podiums… and the bars.
THE BOARDER LINE – 2ND STAGE
To set the mood, the Romans had gladiators. We have the cross-country skiers! On April 09, the Family Run track will be transformed into a real arena where cross-country ski enthusiasts will compete in a brand new boardercross. All day long, the atmosphere will be great with four-way starts, champions from all over the country, a technical track, and a good concert to close the day.
We won't force you to participate in the race because registration is full. However, there will be room all along the track and at the refreshment bar to encourage our kamikazes who have come to shoot the breeze with their friends. The best way to make up your mind is to watch the teaser concocted by the organizers, our friends from Team Farté:
THE FOLY CHALLENGE – 3RD STAGE
Still in the kamikaze category, but with a swimming option, the inevitable Unconscious Challenge
Foly
is back. The skiers and the public have their teeth into it!
Since 1987, the principle is the same: try to cross the Confins Lake on skis. About fifty participants will be present to try to cross the biggest waterslide in the world and maybe beat the record; on skis but also on board of Unidentified Slippery Objects.
THE DER DES DERS – 4TH STAGE
As its name suggests, this is the event that marks the end of the season. The 1st of May is the last day of opening of the Balme massif and it is above all the rendez-vous where ski, music and festivities become one!
As the tradition wants it, the shopkeepers pay their round to the four corners of the slopes with snow bars, furnished with cold cuts and drinks of all kinds. In short, a giant aperitif that ends at the foot of the slopes at closing time with a concert and a DJ set.