This article is destined for those of us who for the last five years have been repeating « I'll start exercising on Monday » and for whom Monday never comes.  We have a solution to stop your friends teasing you about your lack of exercise and fool them into thinking you have finally got out there and broken sweat. All it takes is intelligent photo taking.
La Clusaz has many options to easily reach the top of the mountains and get the all important photo without the effort.
The minimum requirements to take part :
Know how to walk
Know how to ride a bike
Have a phone or camera (someone else can always take the photo once you're up there)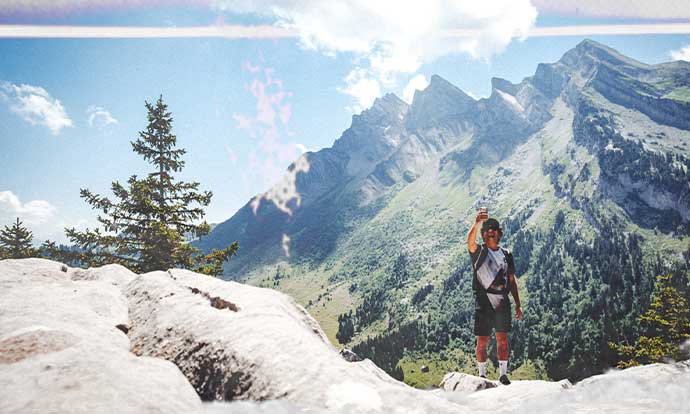 1/ Inventing the life of a seasoned runner
With 4 lifts open every day this summer, nothing could be easier.
Take the Crêt du Merle chairlift, then the Crêt du Loup. There you go, 15 minutes to climb 700m… even Michel Lanne, our favorite runner, can't do better!
Once at the top, enjoy the view and have fun: take a lot of pictures that you will share with your friends and family with a caption like "no pain, no gain".
Here are the top hashtags of pro runners that we recommend you mention: #trailrunning #runaddict #training #race #happyrunner #lacusaz
2/ TRY THE RIDER LOOK
The electric bike is your best option.  If you don't already have one, they are available for hire in the village.
You take your bike up in the Beauregard cable car.  Once up on the plateau, there is a breathtaking, 360°panoramic view over the Aravis, Mont Blanc, Etale, Charvin, Sulens, the Glières and Tournette.  Be creative and hide the battery on your bike for the photos and you can say that you cycled the whole way up.
3/ Create the illusion of an experienced hiker, you are almost a mountain guide !
Add some local knowledge of the fauna to complement your « sporting life », might as well pass yourself off as a local.
All you need to do is visit the Distillerie des Aravis. First of all you will learn all about the health benefits of alpine plants, but you can also take some photos of some génépi leaves and tell the « story » of how you clung to the rocky outcrops up high to gather them.
4/ Don't forget sports recovery
All sports people know how important sports recovery sessions are, and the best place for this is the Aravis aqua park with its stunning view over the summits (that you have just climbed). Enjoy a few strokes to relax your muscles after the strenous effort of your new sporting life.
PS : La Clusaz declines all responsability for the non-conformity of the captions that may accompany your photos.