It's impossible to count all the many Pesseys in the Aravis range, but he is not just any old Pessey. HE is Maurice! The oldest ski instructor at the French Skiing School, a pure product of La Clusaz. Now 81 years old, this senior with a playful grin is still in great shape. So we decided to leaf through his photo album and take a little journey back in time.
"I was born here. I have always lived here. And I will die here!" Maurice likes to remind his students that he still teaches skiing each winter. If it hadn't been for the two years of COVID, he would have taken part in his 60th Ski Instructors Challenge in 2022. But he intends to pull on his red jumper for two more winters to reach his goal.
"My knees are a bit painful, but it's bearable. As long as you feel pain, you're alive," he tells us when we met up with him at the end of the winter season. But there's no need to dwell on his rheumatism, because Maurice sits down next to us with a smile on his face and a light in his eyes and says: "Look, I've brought you some photos! "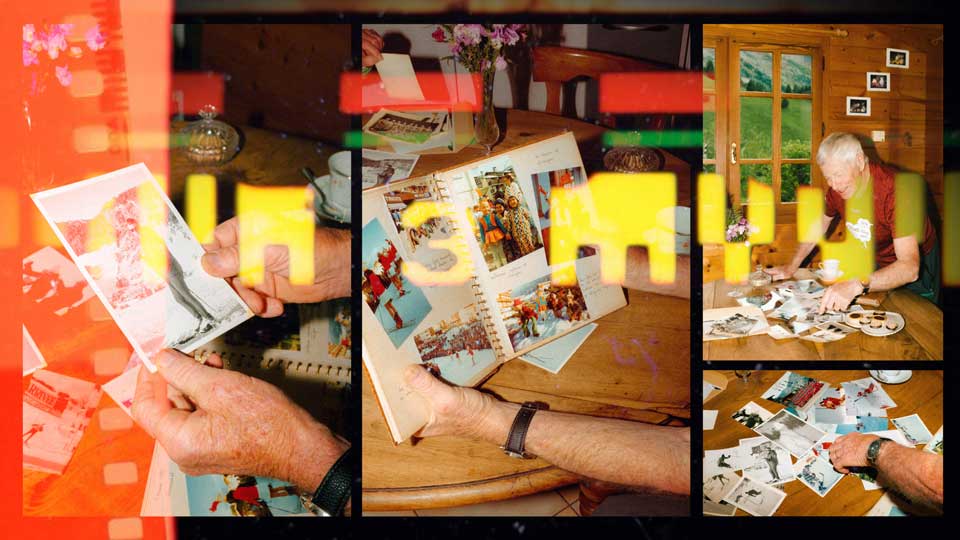 If you really want to have a festive time in La Clusaz, there is the carnival. The shopkeepers, restaurants, ski instructors… They all join in! Here I am wearing a kilt. One year, we were all dressed in barrel staves, believe it or not. We had a kind of little skirt that was lifted upwards on the slopes.
I must have been 16, and the Perrier Cup was taking place. It was like the French Cup, and the best skiers were called up to the French team. It was like the B team! In 1956-1957, I won the cup. I stayed in the team until my military service and then, since I was not quite good enough, I gave up and took my ski instructor certificate.
It is a village here, so very often everyone had two jobs. Ski instructor in winter, farmer or craftsman in summer. At the ski school, you could have made a big company out of all the different professions. There were plumbers, painters, carpenters… There were all the trades.
Me and my sister went down to school on foot. If there was a lot of snow, we went with a horse pulling a wooden block to make a little path in the snow. But on Wednesdays and Saturday evenings, they all came to pick us up, as well as the horse, and we went up the road to La Paton. It was like the school bus at the time!
In summer, we went up to the farm at the Col des Aravis. My father and an uncle had a farm together up there. I used to help my parents, I stayed down below, I made the hay. We had a big mowing machine. When I was 15 or 16, it dragged me along more than I steered it.