You often see natives of La Clusaz setting off to represent the village and France at the Winter Olympics. So when one of them comes back with a medal, it's difficult not to talk about it. This is the case of Hugo Lapalus, the bronze-medallist in the cross-country skiing relay at the Beijing Olympics. The young man with a moustache now lives in Manigod and has been skiing with the La Clusaz Sports Club for 12 years.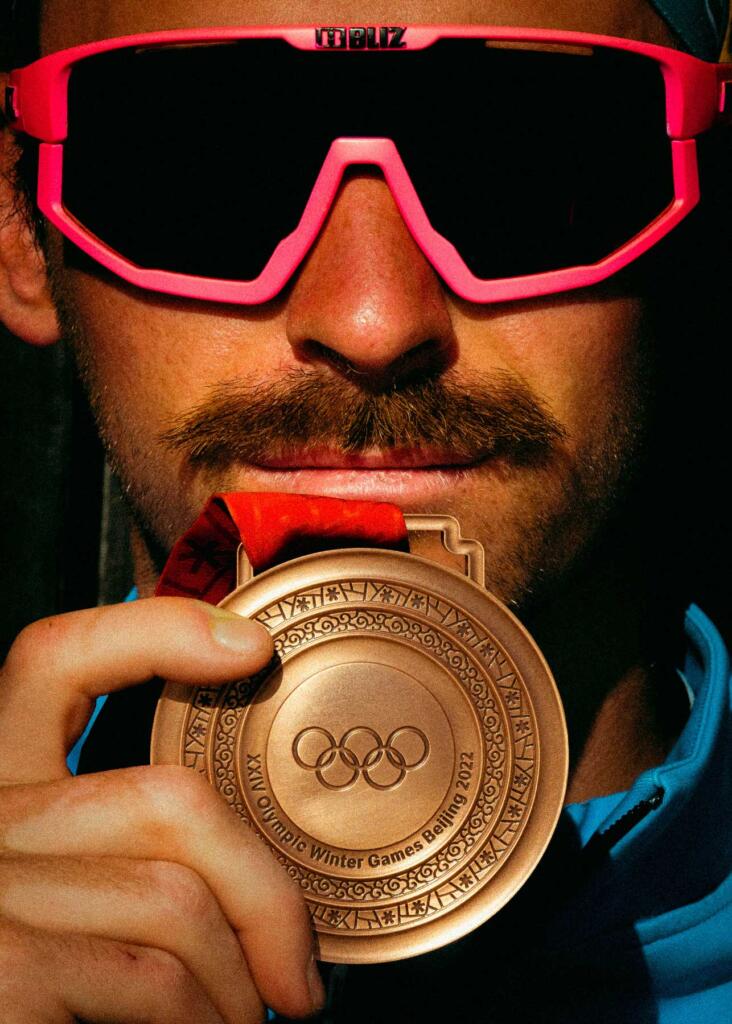 HI HUGO. WHAT IS YOUR PACE OF LIFE LIKE TODAY?
It's hard work, very hard. We work 11 months out of 12 to be in good condition for competitions. We start out with physical training in May and a one- or two-week training course per month. It's a fairly hectic pace. Summer goes by quite fast with one week at home and trips all over the place for training. In autumn we go back to skiing on the glaciers. The season soon arrives at the end of November, until late March or even mid-April, depending on the conditions.
IT'S QUITE NORMAL TO RELAX AND IT'S WELL DESERVED AFTER A GREAT PERFORMANCE AT THE OLYMPICS THIS WINTER. SO, WHAT WAS IT LIKE?
It was an unusual Olympics, but it was still the Olympics… The atmosphere wasn't necessarily brilliant due to the health crisis, daily COVID tests and the absence of spectators. But we lived like lords in between training sessions, with the hotel, the races and a bit of relaxation in a wonderful Olympic village.
AND YOU CAME BACK WITH A MEDAL, WHICH IS NOT TO BE SNIFFED AT. TELL US ABOUT IT!
Yes, an Olympic medal is worth all the gold in the world. Even if this one is bronze! It's a fine object, it's quite heavy. Plus, a team podium is not just for the athletes who ski on the slopes. The medal is shared with all the staff. I'm delighted! It's a childhood dream come true. I tried to savour it to the full!
SO, YES, WE RAISED A GLASS TO CELEBRATE THAT. DOES AN OLYMPIC MEDAL OPEN UP DOORS? WHAT CHANGES AFTERWARDS?
You are more visible and you get more private messages on Instagram… Joking aside, it's most of all easier to get sponsors and partners. Crosscountry skiing is not a very well-known sport, but when you win an Olympic medal, everyone understands what it means. It's something immense, beautiful, and it gives extra weight to a resume. There's no need to hold back, it's all part of the process. But there are also things that don't change. In La Clusaz, all the village supports its athletes in the best way possible. We are encouraged to reach the top, whatever our sport is. They help us in the cool times, but also when you're injured or things are hard. In fact, it's a great big family!