We know, we can't always be good at everything, but that's not a reason to stay within our comfort zone and not try new things.  How about trying mountain biking this summer in La Clusaz, we will be with you all the way, along the different paths, tracks and trails,!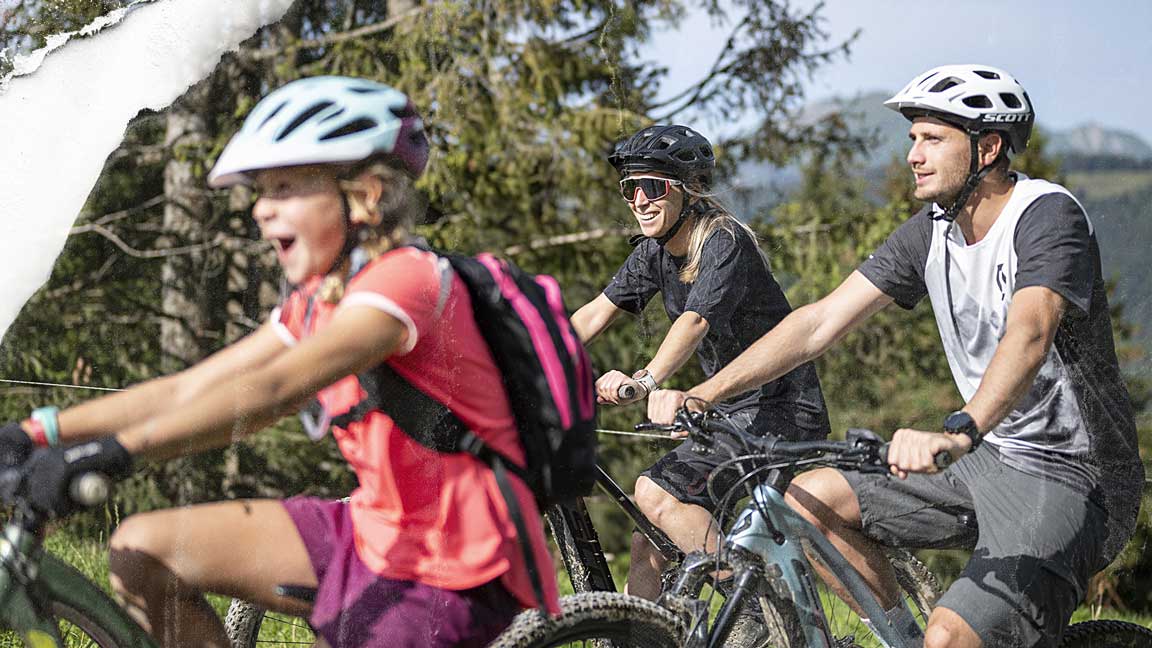 A reminder of the basics
Before going any further, we thought if would be a good idea to revise the basics.  Here's some MTB vocabulary  so that you can head off on the MTB tracks in the best condiitions:
DH / Downhill : In this discipline gravity does 90% of the work, meaning you speed down the tracks and then enjoy a relaxing trip back up the mountains on a ski lift.  It's also the name of the bikes specially adapted for this activity.  Basically, there's snow park in winter and bike park in summer.
XC / Cross Country : This is for heading off-road.  This is more about endurance and the use of strength on the pedals.  The more motivated will cover alot of terrain, climbing and descending and will need the right equipment. However, around here, you can also take your time and enjoy a more chilled out ride !
Single : No, we're not talking music here.  A single is a narrow track or trail to follow on your loyal metal steed.
Ebike / E-MTB : Some may say it is for the weak or for cheats, but don't listen to them.  You still need to be active on an electric bike and you can access spectacular places you would otherwise not see.  There are even multi-functional models on which you can enjoy downhill riding as much as cross country.
North Shore : An area full of modules and wooden structures : tables, jumps, raised turns and a suspended bridge…a bike-sized theme park for mountain bikers !
Effective MTB : It's all about technique. Riding with confidence with neat turns.  Whether the terrain be dry and dusty or very muddy, you will still come home covered in dirt.
Bike Park : If you have been reading carefully, you know that this is where you do Downhill.  If you don't know what DH is, you must be reading this article from the bottom up.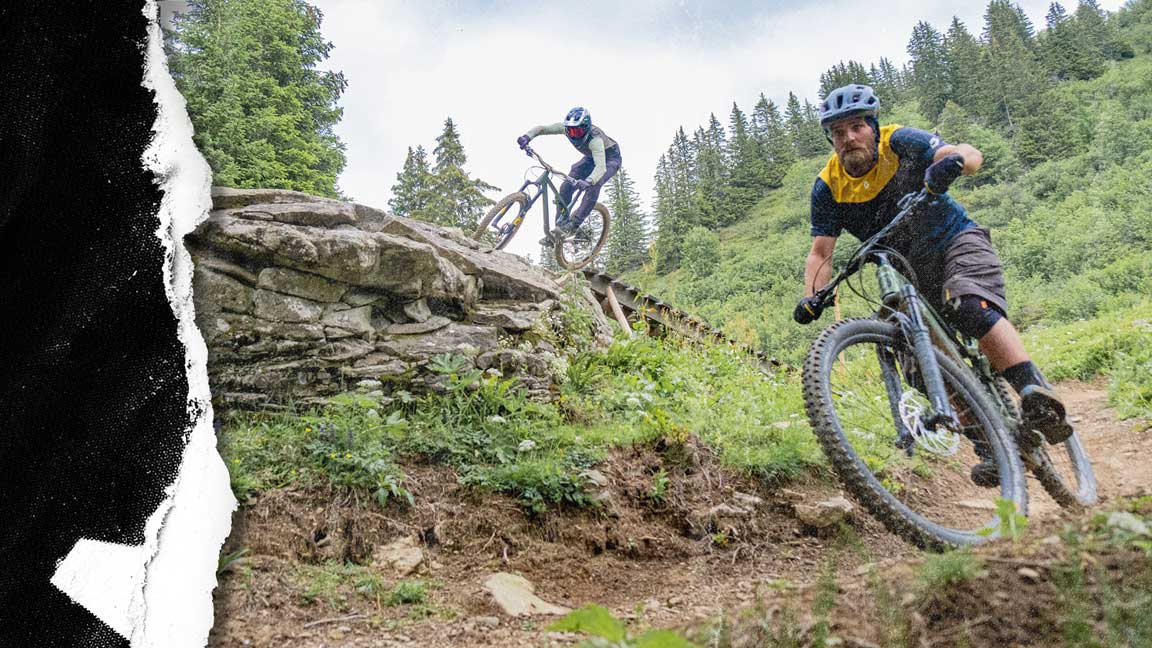 The descenders…
With your back protector on and your full-face helmet, you can leave some beautiful tyre tracks on the trails !  As from 11 June, La Clusaz Bike Park opens for those in search of speed, raised turns and other kicks in the forest.
The Bike Park is : 9 downhill trails, including 1 green, 3 blues and 4 reds, a freeride zone, a North Shore area and a mini bike park for children and beginners.
While we're on the subject of tracks, the Blue on the Loup has been rejuvenated, with a new route and new turns.
The bike patrol has totally reworked the circuit to make it more accessible and easier.  Have a go this summer !
Go the distance
The valley is just waiting to be discovered with over a hundred kilometres of marked trails for mountain biking.  Enjoy days out on the trails, climbing hills and snaking down tracks, whether to push yourself to the limits or just to explore.
If you are not yet ready for the climbs, you can take the Aiguille ski lifts or Beauregard cable car to take you up to the summits and enjoy a leisurely ride through the pastures down to the village.  It's also the perfect way to visit neighbouring valleys, there are infinite possiblities just waiting for the taking !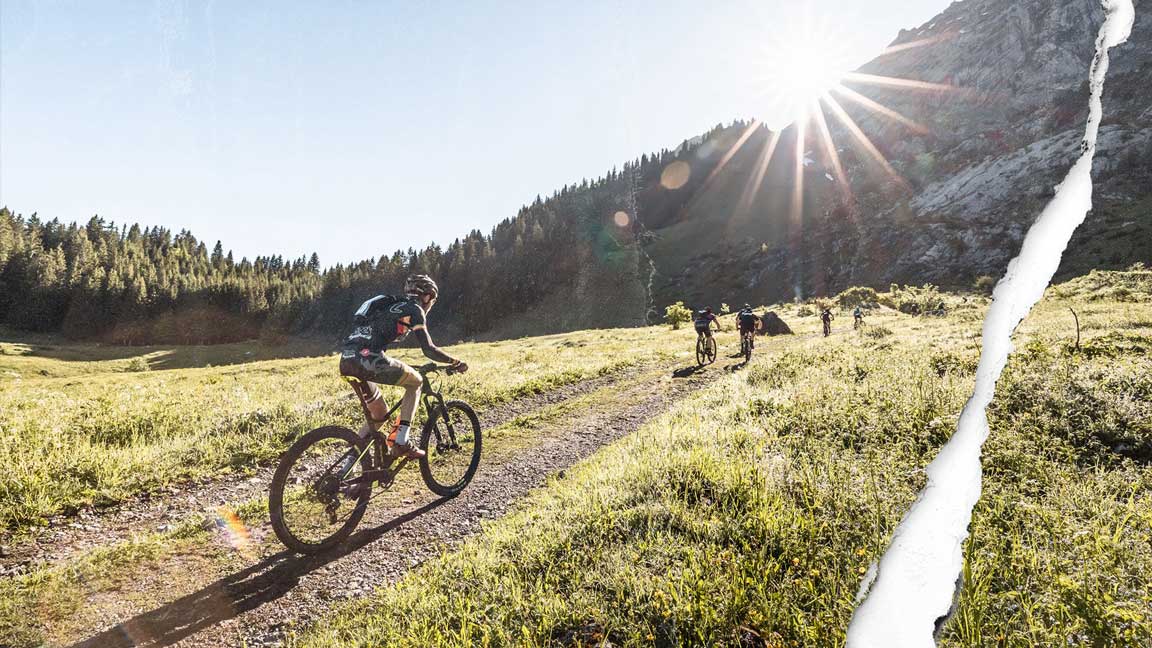 "I didn't come to suffer, OKAY !"
If even despite it all, you are still concerned about taking an MTB into the mountains, there is a solution : E-bikes.  More than a bike, e-bikes are now considered as a method of transport.  Whether it's for having family fun, reaching places you never imagined seeing or a challenging ride with friends, EMTB can take you where you want to go.
WELL-ESTABLISHED
Now that you know all you need to know about MTB, all that is left to do is come to La Clusaz this summer. « Come as you are » and we will do the rest. We've got it covered  with 8 bike-hire shops and 2 MTB schools with coaching by some of the best riders in the valley.
Do you like biking ? You'll love it